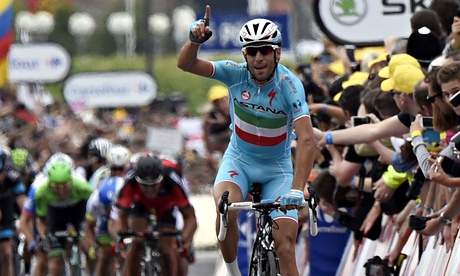 Whoever thought to take the Tour de France to Yorkshire should be congratulated.
Normally, the first few days of La Grande Boucle are spent on the flat stages in Northern France. It isn't until the tour reaches more mountainous territory that things get sorted out and the eventual leaders start to show their dominance.
This year has been different thanks to the inspired decision to start in God's own county.
If Saturday was a day for the sprinters, Sunday was a test of endurance. None of the hills rated more than Cat. 2 but they sorted out the peleton good and proper. The time gap between the race leader and the last man now stands at 36 minutes and 31 seconds.
The final 50 kilometres was a rare treat to watch. First there was Holme Moss followed by Midhopestones with its tricky descent. Then came Ewden Beck which I know from experience. Outibridge was short but steep and finally there was the brutal Jenkin Road where the contenders tested each other.
In the end it was Vincenzo Nibali that dared to pull away and finish seconds in front of the remaining bunch of 20 riders that had survived the day at the front.
It wasn't just the racing though that made the excursion into Yorkshire special, it was the huge crowds that came out to cheer the riders on. On the climbs they were packed six of seven deep and even in places like Huddersfield and Hebden Bridge, the people turned out in force. The Tour organisers reckon there were more than the police estimate of 150,000 spectators out on the roads.
For me it was a journey home and I enjoyed every minute of it but even for those who are not from Yorkshire, it was a spectacular event that hopefully will be repeated in the future.